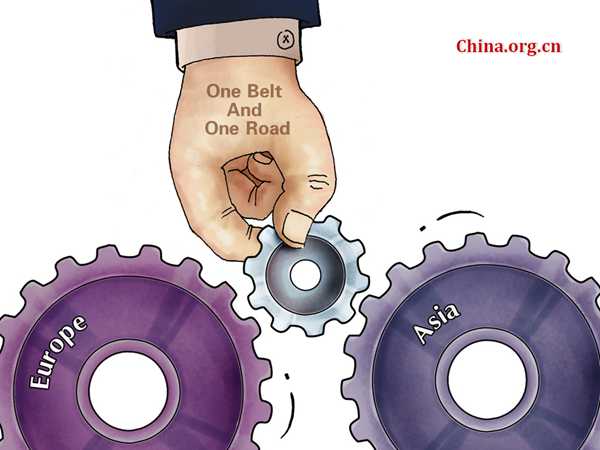 The key link [By Zhai Haijun/China.org.cn]
In an address delivered at Seoul University last July, Chinese President Xi Jinping noted that the development of diplomatic ties fundamentally relies on people-to-people bonds. Xi's words acknowledged the importance of such bonds, the significance of which also applies to China's latest "Belt and Road" initiatives.
The ancient Silk Road used to bridge the civilizations of the East and the West, giving rise to trade and people-to-people exchanges before centuries of war blocked the ancient route, causing it to fall into disuse. The "Belt and Road" initiatives aim to reinvigorate the ancient Silk Road and seek to reopen its old land and maritime channels to shape a community of mutual political trust, integrated economies and inclusive cultures.
Close people-to-people ties important to diplomatic ties
Although different perspectives on the "Belt and Road" initiatives will result in different conclusions, many mainstream theories have been reserved on the prospect of the strategic initiatives, simply advising that the shaping of the "Belt and Road" should advance prudently rather than rashly.
The "Belt and Road" concept actually transcends most current international relations. By emphasizing the historical and cultural term "Silk Road," the Chinese government is signifying that it wants to break through the existing framework of international relations to allow others to understand China and the current world from a broader, more human perspective.
When shaping the "Belt and Road," China should attempt to dissolve the psychological barricades raised between people of different nations, including ethnic conflicts, cultural friction, religious struggles and conflicts created by other perceived differences. The history of Western colonization in the region provides an example of how the unilateral imposition of a certain culture or civilization will only be greeted with huge resistance.
Bearing this in mind, China has proposed a different method that features neither unilateral decisions nor preset roadmaps. Instead, China has applied the principles of sharing, dialogue and negotiation. It has encouraged the countries along the "Belt and Road" and their people to cooperate in concrete terms to seek common interests, which will naturally strengthen people-to-people bonds. Therefore, China's "Belt and Road" initiatives have a social basis in people-to-people bonds that aim to create synergy, understanding, win-win results and mutual trust.