While most state leaders who agreed to attend China's Victory Day parade on Sept. 3 have confirmed their attendance, whether the Japanese Prime Minister Shinzo Abe will appear at the Tiananmen rostrum remains a question, although Japanese media reports have speculated that Abe might visit China on that day but skip the parade.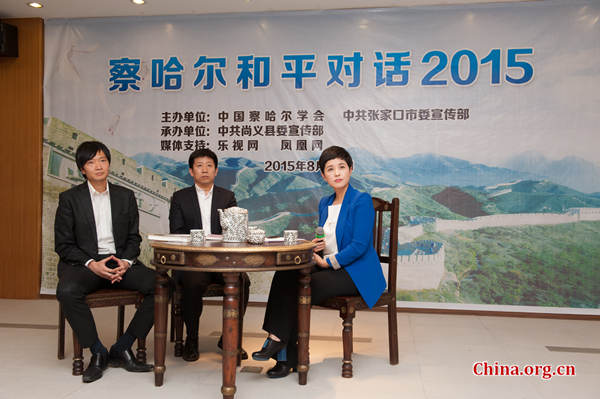 Japanese scholar Yoshikazu Kato (L) and Phoenix International Think Tank director Wang Chong (M) attend the 2015 Charhar Roundtable: Peace in East Asia – Review and Outlook, moderated by South Korean TV presenter Bang Hyunjuheld on Aug. 20 in Zhangjiakou, Hebei Province. [Photo by Chen Boyuan / China.org.cn]
Such speculations are logical, as the parade is part of a series of events to mark the 70th anniversary of victory in World War II and the Chinese People's War of Resistance Against Japanese Aggression.
Abe's appearance at a parade that aims to commemorate the victory over his country will seem too much to take, if not sheer humiliation, especially when Japan is constantly urged to properly deal with historical issues with the countries it invaded.
"Abe's appearance on that occasion would mean China-Japan reconciliation. But there is no such atmosphere for that, including the current China-Japan relations and Abe's own personality. In other words, there are currently no conditions for such a reconciliation," said Wang Chong, director of the Phoenix International Think Tank and a research fellow at the Charhar Institute.
He believed that Abe's is unlikely to attend China's Victory Day parade as Western leaders have also declined invitations, because Japan's foreign policies "closely follow" Washington's decisions.
"If Obama goes, Abe is highly likely to go, because he cannot tolerate the U.S. ditching Japan while strengthening ties with China. But if Obama isn't going, Merkel isn't going, and other important Western leaders aren't going, Abe won't go either," said Wang at the 2015 Charhar Roundtable: Peace in East Asia – Review and Outlook held on Aug. 20 in Zhangjiakou, Hebei Province.
But he warned of the excessive association between the military parade and the hatred toward Japan, agreeing with Japanese media's advocation that ordinary Japanese people born after the war should not have to shoulder burden of their belligerent ancestors. "Young Japanese people should not have to carry their fathers' sins, nor should historical issues affect the development of bilateral cultural and people-to-people exchanges. But the Japanese government should assume the right attitude towards history and it does owe us, the neighboring countries it bullied in the war, an apology," said Wang.
He reiterated that the Sept. 3 parade is not to "hate Japan." And his opinions were entirely agreed by Yoshikazu Kato, a columnist for the New York Times and former visiting scholar at Johns Hopkins University in the United States. Kato did not think that "one summit meeting between the two leaders would alter the situation, nor will it aggravate if they don't meet."
"At a time when diplomacy only accounts for a small part of China-Japan relations, compared with people-to-people exchanges and trade, the two peoples still need more time to get to know each other," said Kato, who also said that "Abe is unlikely to go."
Kato quoted some Japanese media reports claiming that Abe might arrive in China on the afternoon of Sept. 3, just skipping the military parade. He insisted that Abe's China visit – if he goes but skips the parade – on such a "sensitive occasion" would be a "contributing factor for reconciliation" and would open up a new era for China-Japan relations.
"It will show that at least we are willing to, at whatever cost, communicate with the Chinese leaders and the Chinese people. Such a willingness has actually existed for a while; it was beyond imagination in the past," said Kato.
Both experts agreed that the United States is also a major player in the peace and stability in East Asia. While Washington keeps bolstering the Asia-Pacific rebalance, it keeps a vague stance as to how much it wants to get involved in Asia-Pacific affairs. But for Japan, cooperating with the United States is an inevitable choice.