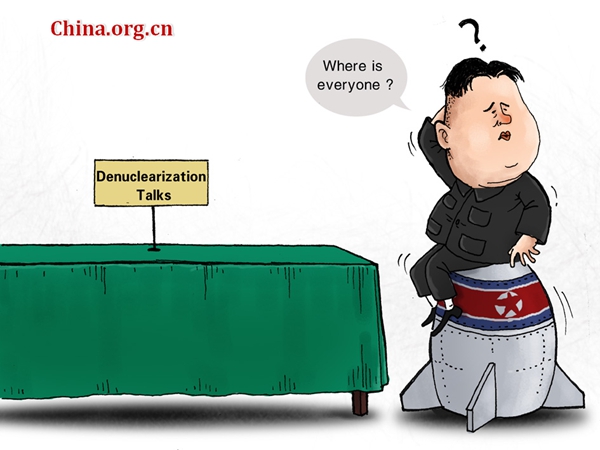 Fashionably late [By Zhai Haijun/China.org.cn]
The international community has been closely checking a claim from North Korea that it has added the hydrogen bomb to its arsenal. The North Korean leader Kim Jong-un made the claim during his visit to a revolutionary site on Dec. 10.
If it's true, it is a matter of grave concern to the outside world as a major destabilizing factor in regional geopolitics. However, the immediate question was whether it was possible for such a test to have evaded the close surveillance of the entire world after the UN sanctions imposed following the North Korea's third underground atom bomb test in 2013.
Is it possible for it to conceal such a test from the sensitive antennae of its neighbor, the Republic of Korea (ROK) and the United States as there had been no advance indications of such a development?
In view of the known nuclear technology level of the North Korea, global experts have reached consensus that, while the country may indeed possess several atomic bombs, it does not yet have the capability for an H-bomb, and especially in miniaturization techniques to enable delivery against an overseas target.
The Pyongyang government announced possession of nuclear weapons in 2005 before three tests were carried out in 2006, 2009 and 2013. Besides, in December 2012, a satellite carried by its Unha-3 rocket was launched.
Just before Kim's highly dubious statement, Pyongyang conducted a test of a submarine launched ballistic missile. But according to American media reports, the missile failed to properly eject from its firing tube, causing damage to the submarine and its sail.
The North Korea's nuclear weapon technology still needs improvement. So, why did Kim choose this moment to make his astonishing claim?
In a country like the North Korea, any announcement has to be seen against a background of the country's internal affairs. Kim's speech on the H-bomb was probably aimed at consolidating his leadership and gaining public support for his military-first politics amid isolation from the rest of the world and domestic economic woes in recent years.
It also happened that Kim's announcement came on the same day as the UN Security Council was discussing human rights in the North Korea. Once the draft resolution is approved, Kim will theoretically face criminal charges and stand trial in the International Court.
Therefore, Kim needs to fight back in order to show his lack of concern over the threat from the UN Security Council.