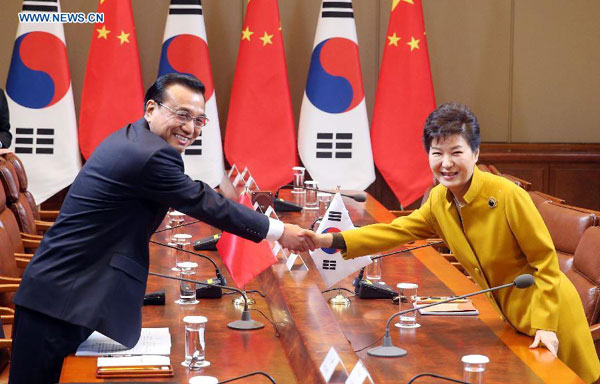 Chinese Premier Li Keqiang (L) holds talks with South Korean President Park Geun-hye (R) in Seoul, capital of South Korea, Oct. 31, 2015. [Photo: Xinhua/Yao Dawei]
How can South Korea's "Eurasia Initiative" and China's "Belt and Road Initiative" mesh? If the two governments could reach a consensus, synergy will produce multiple effects in regard to Northeast Asian peace, common development and modernization.
New type of international public products
South Korean President Park Geun-hye proposed the "Eurasia Imitative" under various slogans of "one continent," "creative continent," and "peaceful continent," on Oct. 18, 2013 in a bid to strengthen cooperation across Eurasia. Park's proposals seek to expand transport, energy and trade networks and boost innovation-led growth while deepening personnel and cultural exchanges, and promote a trust-building process on the Korean Peninsula, and Northeast Asia peace and cooperation.
Meanwhile, on March 28, 2015, Chinese President Xi Jinping said his "Belt and Road Initiative" would meet the demand for development of China as well as countries along the proposed routes as it is in the interest of all parties and complies with the global trend for cooperation.
To finance "Belt and Road" development projects, China initiated the Asian Infrastructure Investment Bank (AIIB), which was formally launched in January.
The Six-Party Talks, which China has actively promoted for a peaceful resolution to security concerns as a result of the North Korean nuclear weapons program, will prove to be the inescapable mechanism to achieve results. China needs to participate more creatively in international affairs, but the key is how to provide more and effective strategic aid and public products - such as the "Belt and Road Initiative" and the AIIB - for the international community.
The "Belt and Road Initiative" focuses on "common modernization." It is based on the principles of "common consultation, common development, and common benefit," and is dependent on enhanced connectivity in international cooperation through the so-called new diplomacy.